I felt special, privileged, and honored, to meet someone whose life story was noted by Hollywood. I met a man named Takele Mekonen whose life story is worthy of a feature film.
Takele is a slim, energetic man. His sharp facial features frame electric eyes powered by a passionate soul. He was born in Ethiopia. There the Jewish community prayed each day that next year they would be in Jerusalem.
As a child, Takele loved learning. Takele's grandfather, a rabbi, taught him Judaism. Takele most enjoyed math and science in school. Anti-Jewish sentiment and civil war in Ethiopia compelled Takele and nineteen classmates to trek to Sudan in a quest to reach Jerusalem.
Over 31 days, they walked to a refugee camp in Sudan. There they found hell – disease, hunger, and despair.  In neighboring camps, they searched for other Jews on Shabbat to see who might be sitting in a tent without a fire.  There was chatter about Mosaad agents coming from Israel.  After a month, an Israeli Mosaad agent came up with a plan to free these Jews. Takele said that it was like meeting an angel, a bit of Jerusalem had arrived. He was given the task of retrieving other Ethiopian Jews. He gathered people in the camps and guided them to a meeting place. Along the way, they were beaten and harassed. After 20 trips, Takele directed 900 Jews who went to Jerusalem. Eventually, the Sudanese police were looking for Takele and he left for Israel. Takele was finally home.
For Takele, Israel is freedom. His face lights up as he declares over and over how much he loves Israel. Bringing people to Israel was his honor and only the beginning of his journey. After obtaining an advanced degree in optics, he worked for eleven years in the tech industry. Now he is spearheading an advanced educational program for Ethiopians in Israel called Tech Careers.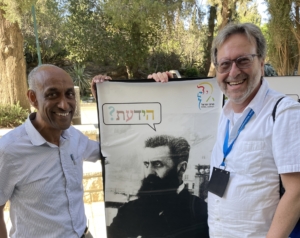 What about that movie?  In 2019 the movie Red Sea Diving Resort featured a storyline about an Ethiopian man who made great efforts to guide Jews to an embarkment place for their journey home. That character is based on Takele's story.  What was special about our meeting? To drink in the commitment, appreciation, and joy of this courageous man. Takele loves Israel and I love Israel because of inspiring Israelis like Takele.
So grateful to the Jewish Federation of Greater Washington for allowing this group of nine rabbis to be in the presence of such a tzaddik!
Rabbi Evan J. Krame
https://Thejewishstudio.org/wp-content/uploads/2021/07/Jewish-Studio-Logo.jpg
0
0
Evan Krame
https://Thejewishstudio.org/wp-content/uploads/2021/07/Jewish-Studio-Logo.jpg
Evan Krame
2022-05-18 20:03:23
2022-05-18 20:03:23
You look like a movie